Contributed by Mac R.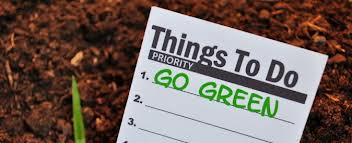 Staying healthy is on everyone's mind. We all want to live a healthy life. But, did you know that workout machines, plastic yoga mats and sneakers wind up in the landfills?  Here are five ways to keep you and the earth in optimum health.
Run/Walk.  One of my neighbors drives two blocks to buy a newspaper and then drives back. He doesn't have any medical issues to prevent him from walking. He just never thought of it. Are there places you can walk to instead of drive? Walking lowers blood pressure, prevents heart disease and keeps you trim. It's recommended we walk 10,000 steps a day. You can even buy environmentally safe sneakers. Rekixx, New Balance and Puma have sneakers made from recycled materials. Nike also has recycling boxes in its stores.
Yoga. Yoga involves meditation along with postures that strengthen your core and improve your flexibility. You can even attend outdoor yoga classes. While many mats are made of PVC, latex or plastic, there are eco friendly options that are made from cotton, wool, jute, hemp or rubber. For example, Gaiam makes mats from TPE and are 100% biodegradable.
Water. Drink water to hydrate your body but don't drink from disposable bottles. Instead, use a reusable ceramic mug at work. When you are on the go, Kleen Kanteen produces metal bottle that are free of BPA and made with food grade stainless steel.
Snacks. Instead of going to the vending machine, pack some organic nuts and seeds in a reusable container and snack on those when you are away from home. Nuts and seeds lower cholesterol, help your heart, help with weight control and lower your risk of cancer.
Almonds help decrease insulin resistance.
Brazil nuts have selenium, which help prevent bone, prostate and breast cancer.
Cashews help with memory.
Pecans can reduce artery plaque.
Pumpkin seeds can reduce your chance of osteoporosis and prevent kidney stones.
Sunflower seeds help improve asthma.
Walnuts can reduce PMS.
You can purchase organic, salt free un-roasted versions of all of these seeds and nuts.
Eating. Start participating in Meatless Mondays. Instead of cooking with meat, make a meal using other proteins such as beans, tofu or bulgar wheat. Buy organic versions to avoid putting pesticides in your body and the earth.
How do you stay healthy and green? We'd love to hear from you!  So, please get in touch at Food For The Soul